Each year AWA members vote to select a charity of choice from among a shortlist nominated by its members.  AWA members then spend the following year volunteering for and fundraising on behalf of the selected charity.  Recent selections have included Befriend a Child, Aberdeen Cyrenians, the SSPCA, The Archie Foundation, Riding for the Disabled and Grampian Women's Aid.  In the past few years alone AWA members have raised more than £40,000 for these causes, with a cheque presented to our chosen charity each May at our Spring Luncheon. Fundraising occurs throughout the year at our general monthly meetings via raffles and auctions, at the Holiday Craft Fair and other social events.  In addition to selecting one main charity to sponsor, the AWA also make donations each year to each of the runner-up shortlisted charities as well as other local groups by request.
ARC Hippotherapy: SCIO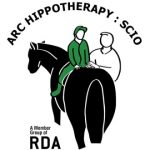 In the 2018-2019, we raised £11,000 for the local charity ARC Hippotherapy: SCIO (a member group of the national charity Riding for the Disabled).  ARC Hippotherapy is based at the Aberdeen Riding Club premises at Nether Anguston Farm, Peterculter, and offer hippotherapy for children and adults with disabilities, provided by a Qualified Physiotherapist.  The funds raised have gone toward a hydraulic lift which will open hippotherapy sessions up to a greater number of individuals in need.  This lift will be a great advantage in Aberdeenshire in offering therapy previously not possible to older children and adults that have restricted mobility or are wheelchair bound.
Thank you to our donors
Every year AWA members and local businesses come together in support of one of our biggest fundraising efforts, our April Charity Event.  Thank you to everyone who donated services and items and helped us raise £11,000 for our charity in 2018-2019.
Volunteer Opportunities
ARC Hippotherapy also offers volunteer opportunities and many of our members have found great fulfillment and joy in helping a worthy cause.
What is Hippotherapy?
Hippotherapy literally means treatment with the help of a horse, from the Greek word hippo, meaning horse. The therapist utilises the rhythmic movement of the walking horse. A client appropriately positioned on the horse experiences and responds to significant sensory input.  This positions them ideally to develop postural control, equilibrium reactions, balance, coordination, and spatial orientation. There are also psychological, speech, language and cognitive benefits.  Hippotherapy is a treatment carried out by, or under the direction of a specially trained Physiotherapist or Occupational Therapist – the hippotherapist. Valerie Cooper is the trained hippotherapist. She observes the rider and gives instructions to 2 side helpers, who walk either side of the horse to ensure that the rider is in the correct position at all times to gain maximum benefit from the treatment.